#WeAreWhatWeEat: Food Justice at Winnie Mandela HS
The 86 students at one of CTVN's Alternative School sites, Winnie Mandela Intergenerational Alternative school do not have a lunch program. A group of students, tired of being hungry all day, have decided to change that. The social justice and video production class has begun a campaign, dubbed the Winnie Mandela Food Justice Project, to get a lunch program started. As part of the program, the students have been learning about food justice issues that affect their community as well as healthier eating habits.
The group is using the video production skills that they learn in class to create awareness for their issue and working to get support from other organizations. The project is supported by a grant from the Self Development of People project, part of the Presbyterian church, which helps provide snacks and stipends for the students. The grant also provides funds to provide meals for two days so that students can produce a short documentary to highlight the differences in the quality of life and education that a mid-day meal helps provide.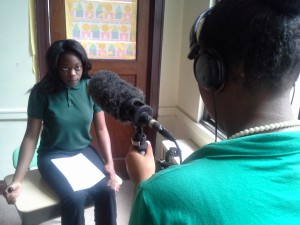 These videos documenting the state of lunch at the school will be used by students to find partner organizations to help with material support and funding to establish a regular lunch program for themselves and the future students at the school. To stay up to date on the Winnie Mandela Food Justice Project, follow @wmfoodjustice on twitter, on tumblr: wmfoodjustice.tumblr.com, and wmfoodjustice on facebook.
Be sure to follow and like us!