Make Over Progress
Since Thursday May 17th, Frank Fontana and his crew have been hard at work rehabbing the CTVN studio. CTVN headquarters is full of chaos with workers, building equipment, and excitement.  The construction will be done soon and the students will have an amazing new workspace! Anticipation to see the completed studio is high with all the CTVN staff and students.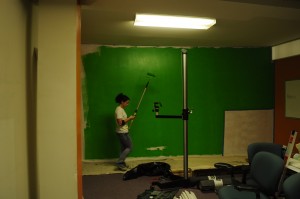 Frank Fontana and his crew invited the CTVN staff and our closest friends to participate in a live studio audience during a live shoot at the Kenmore-Craftsmen Brand Live Experience Studios. Please join us Wednesday, May 30th for the live taping. The studio is located at 233 W. Huron, Chicago IL 60654. The doors open for this event at 6:15pm. The live taping will be from 7:00-7:30 pm.
Please come to support CTVN and invite your friends! Make sure to RSVP on facebook or by sending an email to info@ctvnetwork.org.
Be sure to follow and like us!