Mission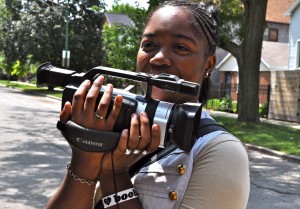 Community TV Network, a leader in student-produced media, empowers low-income youth in Chicago by engaging them in the creative and collaborative process of modern video production. CTVN promotes youth voices and positive community development. To us, this means raising awareness of meaningful education and economic viability within Chicago's urban communities. Our programs give youth the awareness, motivation, and tools they need to tell their stories, as well as create positive change in their neighborhoods.
Core Values
Stimulate our students' creativity by introducing them to a variety of influential student films and the rich history that CTVN has cultivated over its forty-plus years.
Engage with our students' personal interests and struggles, in an effort to catalyze the development of their own artistic voices.
Empower our students with the technical skills to tell stories of their own, as well as the stories of their community, within the medium of modern digital video.
Promote our students' work during their time at CTVN and afterwards, in hopes of creating a network of socially conscious artists working towards a brighter future for everyone.