Awards & Festivals

CTVN youth-produced videos have consistently measured up to  be the best in the field.
In 2012, CTVN youth media makers traveled to Boston for the Do It Your Damn Self Video Festival, to Seattle for the National Film Festival for Talented Youth, Schaumburg for the ScreenTest Student Fest. We are proud to note our participation and honors received at the following festivals around the country in the last three years.

In partnership with the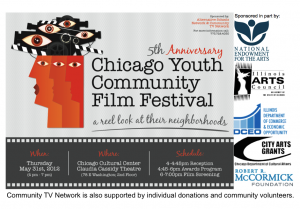 Alternative Schools Network, CTVN will be hosting  the 6
th
annual Chicago Youth Community Film Festival: A Reel Look at Their Neighborhoods at Northeastern Illinois University's Carruther's Center for Inner City Studies, celebrating the work of students at eleven partnering alternative schools satellite locations.